How would you like to snuggle up inside the embrace of the earth…. with warm natural elements surrounding you…. your own greenhouse full of food…. and spectacular forest views to the south with the warm Colorado sun pouring in?
Well – here you go!  This fabulous earth-sheltered home is located in the mountains west of Boulder, Colorado.
Isn't it the time of year when you just want to drive to Vermont and cozy up by the fire at some quiet country Inn while the snow falls peacefully outside?
Well here you go - a totally relaxed, unpretentious little spot in the mountains of Vermont to unplug and unwind!
The Gables Inn is the epitome of a Vermont country Inn.
Located just outside the small town skiing mecca of Stowe Vermont, this 150 year old farmhouse has been converted into a full service inn and restaurant.
Let's have a peek at a Colorado green home in the gorgeous mountain town of Salida, about an hour from where I live.
The term used to described the home style that emerged organically in the high country of Colorado is "mountain contemporary". But green homes have been popular in the state of Colorado since the 1960′s thanks to the environmentally minded hippy folks who put roots down here during that time (John Denver!)
This particular home has one of my all-time favorite green features (though not native to Colorado) – a living roof.
Isn't that beautiful?
This green home was built with love and care for the environment 17 years ago and it remains to this day, a completely off-grid dwelling. But that does not mean that it is rustic or lacking in amenities. No, no, no. This home is a natural beauty.
At first glance, one might say of this cabin:  "look at that ramshackle, patched-together half-baked ponderosa." (Well, I probably would say that.)
But the truth of the matter is that this cabin in the Flathead Valley of Montana is a stylish, eco-friendly family home made of reclaimed and recycled materials.
So have a look while I eat my humble pie.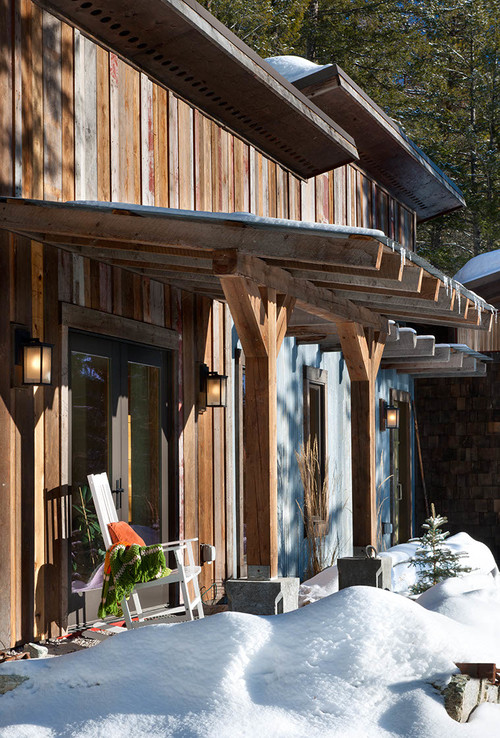 This mountain cabin was designed by a company out of Montana called Mindful Designs, Inc.
Their design philosophy is known as "healthy sustainability" – a conscious approach to building which values quality over quantity and focuses on renewable resources and energy efficiency. I like that.
Since not all of Colorado is burning (lots of it, but not all of it) I thought I would feature a beautiful home in the Colorado mountain town of Crested Butte.
I did not make up the "Shangri-La" stuff - this house is actually named Shangri-La. It was built in the year 1900 back when Crested Butte was but a mere frontier mining town.
Today, however, Crested Butte is one of Colorado's premier ski resort destinations. (And by that I mean PRICEY!!!)
The historic home was completely renovated in 2008 and they really didn't leave any of the original character… I was kind of bummed out about that.