Let's have a peek at a Colorado green home in the gorgeous mountain town of Salida, about an hour from where I live.
The term used to described the home style that emerged organically in the high country of Colorado is "mountain contemporary". But green homes have been popular in the state of Colorado since the 1960′s thanks to the environmentally minded hippy folks who put roots down here during that time (John Denver!)
This particular home has one of my all-time favorite green features (though not native to Colorado) – a living roof.
Isn't that beautiful?
This green home was built with love and care for the environment 17 years ago and it remains to this day, a completely off-grid dwelling. But that does not mean that it is rustic or lacking in amenities. No, no, no. This home is a natural beauty.
At first glance, one might say of this cabin:  "look at that ramshackle, patched-together half-baked ponderosa." (Well, I probably would say that.)
But the truth of the matter is that this cabin in the Flathead Valley of Montana is a stylish, eco-friendly family home made of reclaimed and recycled materials.
So have a look while I eat my humble pie.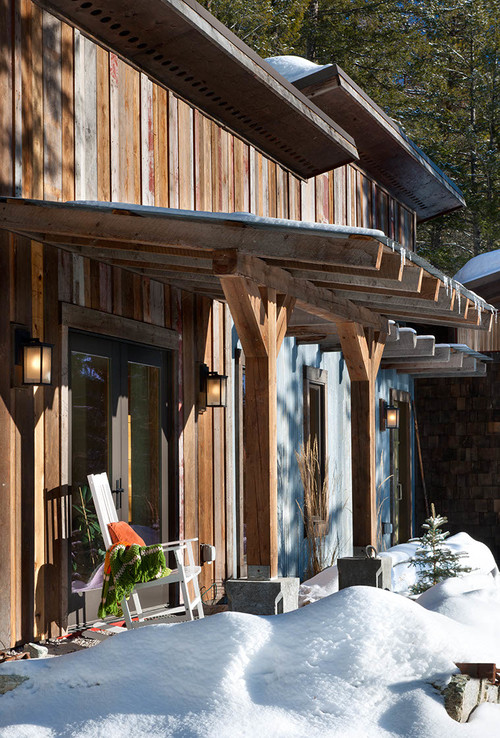 This mountain cabin was designed by a company out of Montana called Mindful Designs, Inc.
Their design philosophy is known as "healthy sustainability" – a conscious approach to building which values quality over quantity and focuses on renewable resources and energy efficiency. I like that.
Since not all of Colorado is burning (lots of it, but not all of it) I thought I would feature a beautiful home in the Colorado mountain town of Crested Butte.
I did not make up the "Shangri-La" stuff - this house is actually named Shangri-La. It was built in the year 1900 back when Crested Butte was but a mere frontier mining town.
Today, however, Crested Butte is one of Colorado's premier ski resort destinations. (And by that I mean PRICEY!!!)
The historic home was completely renovated in 2008 and they really didn't leave any of the original character… I was kind of bummed out about that.
One of the most searched terms on my blog is "John Denver's House". I did a post a while back called Starwood in Aspen - about a home near John's house in Aspen, Colorado that was for sale - but not John Denver's actual house. Starwood is the name of the subdivision where he built his dream home.
I suspect people also search my blog for John Denver's house because 1) I live in Colorado, 2) I love mountain homes, and 3) I occasionally mention my undying love for John Denver here on my blog.
Your wish is my command. Here is the be-all-and-end-all post on John Denver's former home in Aspen, Colorado……..
John Denver and his first wife Annie Martell lived in Edina, Minnesota until the late 1960s. With the success of his latest solo album, John brought Annie to Colorado to scope out a site for a future home.
Colorado had always been a favorite destination for John, although he was not actually born here. He was born in Roswell, New Mexico of all places. His father was an officer in the Air Force and the family moved often from state to state. The young Henry John Deutschendorf, Jr had traveled through Denver and was taken by the beauty of the wondrous Colorado Rocky Mountains.
He began singing and playing guitar at age 11 when his grandmother gifted him a guitar. John performed in bars during college and soon became well known in the folk music scene as a singer/song-writer. He joined the group the Chad Mitchell Trio in 1965 and performed with the group until 1968. John was told during this time by record executives to change his name to something shorter. He chose the surname "Denver" in honor of the capital city of his favorite state - Colorado.
One thing I did not know before writing this post was that John Denver attended Texas Tech University in Lubbock, Texas where he studied architecture. So when it came time for him and Annie to build their dream home, John enthusiastically designed it himself and the home later won several architectural awards. It was built predominantly from redwood with tons of glass windows to take advantage of passive solar heating from the prime southern exposure.
The home is located at 570 Johnson Drive, Aspen, Colorado.
Why Aspen? John and Annie had been on a ski trip to the community and fell in love with the landscape and the small town atmosphere. Keep in mind that Aspen was not the astronomically expensive wealthy enclave that it is today.
Aspen, Colorado in 1974:
Back then it was one of Colorado's undiscovered gems. The irony of John Denver's success is that his presence in (and vocal admiration of) his beloved Aspen contributed to droves of people swarming there. Subsequently, Aspen became an over-priced, heavily developed world famous ski resort destination. You can still find some old-timers in Colorado who are bitter about this and blame John Denver for the bastardization of Aspen, Snowmass and the surrounding areas.